Activation and Support
---
Licenses
Each spreadsheet is a Single User Licensed product.
It is licensed to one user and it can be installed/used on a maximum of 2 computers.
No company license is foreseen.
For a Company licensed version you have to purchase additional Single User Licensed products. 
Remember that by purchasing one or more spreadsheets you agree to the "Terms and Conditions" you can find at right of this page.
Secured spreadsheet and Activation
For security reason each ".XLS" spreadsheet you will purchase and receive has been compiled in a ".EXE" application file format identified by our icon image. 
To open your protected workbook, launch this .EXE file. Nothing else is required, except a local copy of Microsoft Excel on your machine. 
When launching the .EXE file, Excel is started and the protected workbook is opened. You can work with it as if you had opened it in the regular way. 
If Excel is not found on the local computer, an error message is displayed. 
To use this workbook it needs to be activated on your selected computer. When checkout is completed, you will receive a confirmation e-mail with all instructions for the activation.
The activation is based on an hardware-locked key that will only work on the computer specified by you. It won't work on any other machine.
The key is based on an unique hardware System ID of the machine.
Once the purchased product has been received, you shall communicate the System ID of the machine where you want to use the spreadsheet.
You can use the following Activation Form. 
A number of maximum 2 System ID (2 machines) can be communicated.
Each computer has a different System ID hence make sure to send the ID of the computers on which you want to use the spreadsheet.
The System ID can be found by launching the purchased application. 
When you run your application for the first time, you will get this window: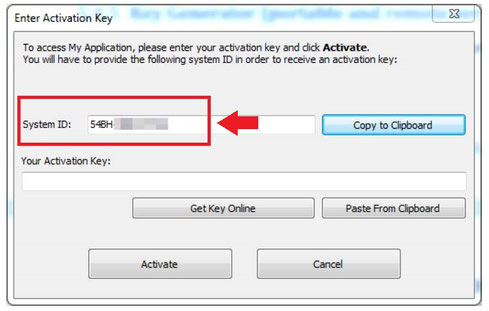 The machine's System ID is reported in the relevant field. You have to copy this identification number and send it to us by email or by using the Activation form.
You can use also the button named "Get Key Online" that will open your web browser to the URL of the Activation form.
You will receive by email Your Activation Key based on your System ID as soon as possible. 
Note: unlikely at present time this procedure is manual, so the time needed to receive your activation key could be from few minutes/hours from purchase to 1 day maximum. Please be patience. An automatic procedure is in working and not available yet.
Once received the key, run your Excel workbook again and will get the same window as before. You will just have to enter the key and click Activate.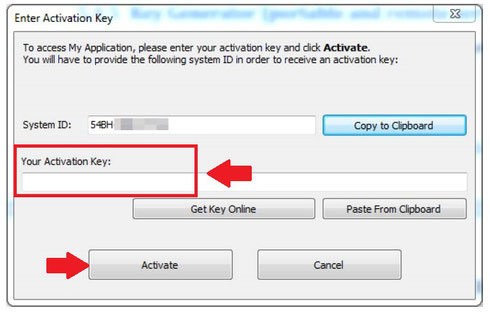 The End User License Agreement will be displayed and after you check "I accept the terms of the license agreement", the "Continue" button activates and you can proceed to open the secure workbook.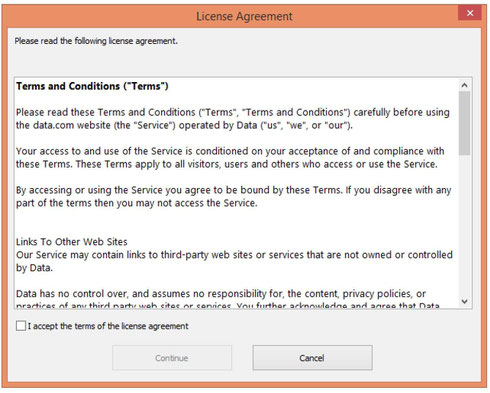 For next runs on this computer, the workbook will open without requiring any key.
Updating of purchased spreadsheet
If you will receive an updated version of the purchased spreadsheet, it will continue to work on the activated machine as the already installed version. It won't need to repeat the activation procedure. 
License transfer on other computer
It is not possible to deactivate the license from a computer and transfer it to another one. It is possible to activate it only on two computers. Hence be sure to activate the license on the computers you really want to use. 
To use it on additional machines you need to purchase additional Single User Licenses.
What you can do with the spreadsheet
The worksheets of your workbook are password protected. You can modify only the cells relevant to the input values needed for the calculation.
Access to the Visual Basic Editor is not possible. 
You can print or copy contents to other documents.
Some options like "New workbook", Open, are disabled for security reasons. 
You can modify your workbook and save the changes. Changes will be saved in another crypted file that can only be opened with your secure application. Your original workbook will still always be accessible. 
To save changes, you can click the usual Save button or use "File => Save" menu. The standard "Save as" button is disable.
The "Save As" dialog box will appear, asking you where you want to save a secure copy of the modified workbook: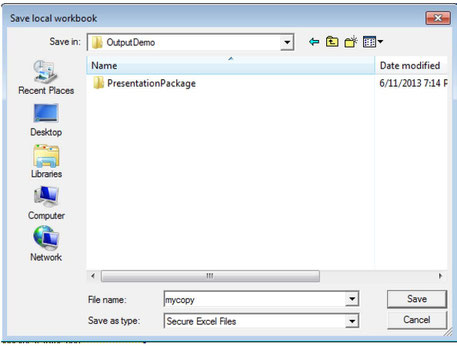 Your compiled workbook with changes made by you will be securely stored at the location specified by you in a file. This file is given the extension .XLSC and can't be opened without running the compiled workbook again. 
The next time you will run your application, you will have the choice to open your original workbook or to open a version you have saved, the last one, or a previous one ("Choose Save"):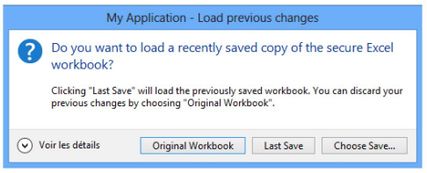 By default, the "Save As" dialog box is displayed each time you click the standard save button. The last file saved is automatically remembered.
Each .xlsc file can be opened only by the compiled spreadsheet you have used to generate it. 
Hint: If you have more .xlsc files generated by more compiled spreadsheets, identify them by a specific name to remember which spreadsheet to use to open it (i.e. "Dim bolt – project name.xlsc", "lift lug - project name.xlsc", ….).
If you will receive an updating of the spreadsheet it is possible that this "Load previous changes" dialog window is not displayed at first start of the new version. In this case simple create a new saved file and the window will be displayed again at the next opening of the application.
Excel versions 
The spreadsheets have been created with Excel 2010. The compiled secured applications run with all excel versions from 2003 to recent 2016. Anyway it is suggested to use the minimum Excel version 2010, that it has been tested on different computers.
The ".EXE" spreadsheets you will purchase in this site have been compiled for both the Excel 32-bit and Excel 64-bit version. After the checkout procedure you will receive an email with the link to download the spreadsheet file. It works for both the Excel bit versions.
Only for the demo version of the spreadsheets you find in each page, you need to download the specific 32 or 64 bit version, compatible with the installed Excel. Choose your version (or both if you want).
To verify which Excel version you have installed on your computer, see the specific Excel procedure. In general this information is contained in the options page. You can also run both the demo version files and see which works.
Anyway in case of doubts don't hesitate to contact us for additional explanation.
MAC users are strongly invited to test the .exe spreadsheets before to purchase them. For this scope, for some products a trial version is available on their description page. No MAC version of the products is foreseen, hence be sure they work on your MAC platform before purchasing. For this reason no refund will be foreseen. 
F.A.Q.
---
" I have downloaded the file after purchased, but the activation key is not included in the download."
The file you download, after the purchase has been completed, is the .EXE application. The key to activate it on your computer will be sent you in a separate e-mail. You can request it following the procedure described above and in the Activation form page. 
" I have Excel 64 bit on my computer. Are the purchased spreadsheets compatible with that version? "
Yes, the spreadsheets you will purchase in this site are compatible for both the Excel 32-bit and Excel 64-bit version. After the checkout procedure you will receive an email with the link to download the spreadsheet file. The file works and is the same for both the Excel bit versions.
" I have an antivirus software on my PC. Is it a problem for the execution of the .exe spreadsheets? "
First of all don't worry all our files are safe and in general there is no problem with antivirus softwares. Anyway because the .EXE applications are not provided with certified digital signature (not yet), there is the possibility that an antivirus software or Windows firewall generates a "false positive", showing a warning message (or in worst case blocking the file). In this case enter in the preferences of your antivirus software and add the .EXE in its exclusion files list. In this way the antivirus allows its execution without problems. 
" When launching the trial demo version of the spreadsheet for the first time the following error message is shown. What is the problem? "

The window appears because you have ran the 32 bit demo spreadsheet on a computer with Excel 64 bit. (Note: the same window appears if you run a 64 bit demo spreadsheet with Excel 32 bit).
Only for trial demo files you need to download the specific bit version, compatible with the Excel installed on your machine.
For example, if you have Excel 64 bit version download and use the 64 bit version of the demo file.
Anyway, in case of doubts, don't hesitate to contact us for additional explanation or to request.
" I haven't a PayPal account. Can I pay using a different method, such as a credit card? " 
Don't worry, you can still purchase the spreadsheets even if you haven't a PayPal account.
In this case, when you will proceed with the checkout from the Shopping Cart, you will be given two options: 
       1) to log in to your PayPal account;
       2) to pay with a Credit or Debit Card without signing up for PayPal account;
Selecting the second option you can use your Card.
" How do I get a test version before purchasing it? " 
For some spreadsheets a trial version is available for testing. In the Free resources page a list of these spreadsheets is available. Clicking one of these spreadsheets you will be re-directed to the relevant page where you can download them for free.
For the limitations and installation notes about the downloaded file see the relevant page.
If you want to test a spreadsheet not included in the list above, please contact us to request a trial version of it.
" Are the spreadsheets compatible with English units as well as metric? "
Basically the spreadsheets are in Metric units system. Anyway many spreadsheets are also compatible with the English units system. For these spreadsheets both unit systems are included.
See the description of the relevant spreadsheet to see if it is compatible with English system.
" I am a Linux user and I am looking for a way to try/buy your excel worksheets for Linux. Is there a way to do that? "
We're sorry but spreadsheets have been reaized to be used for Windows and Excel. Linux is not included and never tested. You can try to run .exe applications on Linux before to purchase them. For this scope, for some products a trial version is available on their description page and summarized in page Free Resources.
Be sure they work on your platform before purchasing, because no refund is foreseen in this case.