Design and verification of pin connection as per Eurocode
---
The spreadsheet verifies a connection composed by plates jointed with pins. The verification is performed taking into account the Eurocode norm EN 1993-1-8:2005 § 3.13 Tab. 3.10.
Different cases are covered by the spreadsheet:
Connection composed by 3 plates in a standard pin configuration

Connection composed by 2 plates

Connection composed by 4 plates equally spaced.

Verification of one single plate with pin. It allows to verify the pin connection inserting directly the forces on the pin section (shear and bending).
Feautures:
Four different configurations for the pin connection

Pin shear resistance

Pin bending resistance

Pin combined shear and bending resistance

Plate bearing resistance

Ultimate Limit State

Serviceability 

Limit State (replacement of the pin)

Reaction forces on the connection plates

Verification of the geometry of the lug and minimum distances check as per Eurocode

User materials for yielding and ultimate strenght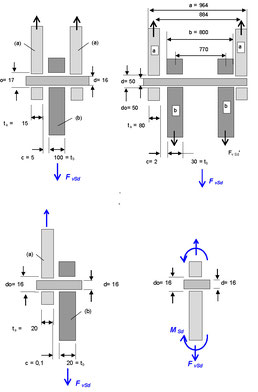 The spreadsheet you will purchase and receive is an excel file compiled in a ".EXE" application file format identified by our icon image. See the Activation/Support page for more details.
---
Trial version
---
You can download a trial version of this spreadsheet for evaluation purpose. Click below to download the zipped file.
The trial version has a limited number of runs from its first activation on your computer, after that it stops to work and a new activation key is needed or the full version should be purchased.
To activate it, unzip the downloaded file, run the application and insert the Activation Key you will find in the .TXT file.
After key validation, the runs count starts on your machine and a window is displayed at each launch reminding you the remained launches. 
To purchase the full version go back to this webpage or use the "Purchase Online" button on the window.
The trial spreadsheet is fully working with the following limitations:
A pin diameter of 20 mm is fixed and it cannot be modified

It is not possible to open/save external spreadsheets when it runs

Excel toolbar is not visible

Print function is disable

Copy and paste functions are disable

Save function is disable
 What you will find in the full version
No expiration 

No limit for pin diameter

It is possible to open/save external spreadsheets when it runs

Excel toolbar is visible

Print function is available

Save function is available

Copy and paste functions are available
For support and questions contact us.
Pins Connection v 1.3 - Trial version
Pins Connection v 1.3-Trial version.zip
Compressed Archive in ZIP Format
14.0 MB
---
Spreadsheet versions list:
Version 1.3: 
Fixed bug in serviceability bearing verification.
Version 1.2: 
Added designer information. Data insertion improved. Minor corrections.
Version 1.1: 
New .EXE file format for the spreadsheet. When launching the .EXE file, Excel is started and the protected workbook is opened as if you had opened it the regular way. See Activation/Support page for more information.
Version 1.0: new introduced file.
Answer to John Brady and MEchanic: downloading file updated with recent issue. Try to download and install.